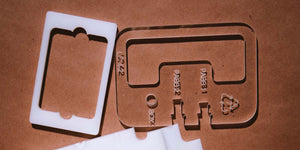 Increase the possibilities of your FLUSHTEK System Pack and save with our new expansion packs! Each pack includes a corresponding Faceplate Template and Box Template, precisely tuned and computer-cut out of solid plastic.

Expansion packs are available for each outlet brand / box brand combination that we offer and will work seamlessly with your already purchased FLUSHTEK System Pack*.
Wood Veneer / Lutron / Carlon Old Work
*Expansion Packs are not available for Flushtek models LC 4-3 or LC 4-2 due to an increase in manufacturing tolerances. Look on the lower left-hand side of your Flushtek Template base to find your system's model number.