Kitchen Cabinet Electrical Outlets: Installation Options
In today's blog post, we're going to discuss how you can use the FLUSHTEK System Pack to hide outlets in your kitchen. We've got a few examples of outlets installed in cabinetry and kitchen islands—and even a few installed with our new FLUSHTEK Wood Veneer Outlet Covers. Learn more below!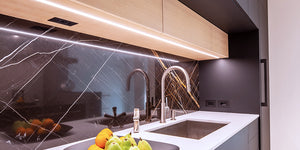 flush outlets allow this kitchen's modern design and beautiful materials to take center-stage
The Problem: How to Hide Kitchen Outlets
Code-required kitchen outlets are an unfortunate fact of life for designers and homeowners. There's a reason why these eyesores are often photoshopped out of high-end design photos: code requires them at such an incredible frequency, they often dominate even the most beautiful materials and craftsmanship. To make matters worse, kitchen outlets are one of the last things to get coordinated in a kitchen, with an electrician or code official informing the owner they're going to need A LOT more outlets.
So how does one solve this problem? The best solution (as always) is proper planning and coordination. But even then, standard outlets dotted all over custom millwork is painful, and the majority of "designer" outlets on the market cost an arm and a leg. And what about renovations where it's too late for effective planning? Where the material is already on site and needs to go in ASAP? Fortunately, FLUSHTEK is an incredible solution for these common issues—read on below to see for yourself!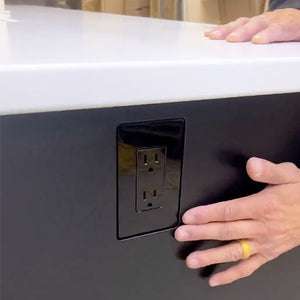 Black on Black
This Canadian millwork company specializes in custom kitchen cabinets for customers who demand the best designs and service. They put our standard FLUSHTEK System Pack to use on this kitchen island side panel to install a flush outlet that was both discrete and easy to use. They liked the flush look so much, they featured it in a panel at their local trade show.
Mid-Century Modern Remodel
As a part of updating this incredible mid-century home in New Jersey, this (instagram famous) contractor utilized a flush install to add hidden outlets to this custom white oak kitchen island. Similar to some of the installations below, he took this electrical outlet to the next level by installing it with a FLUSHTEK Wood Veneer Outlet Cover. The grain matching looks incredible!!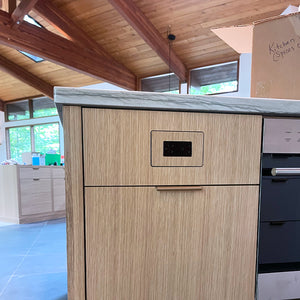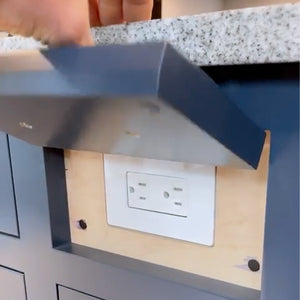 Hinged Kitchen Island Outlet Covers
These kitchen island outlets are totally hidden from view by a hinged flap that covers the device while not in use. This contractor used a flush installation to make installation a breeze and allow the hinged overlay to sit flush.
Transitional Kitchen & Matching Teal Outlet
This New York City based interior design firm typical leans towards the contemporary, although here the modern flush outlet feels right at home. Similar to installations above, installing the outlet in the Island side panel makes it super easy to access, while the flush, color-matched install has it looking great too!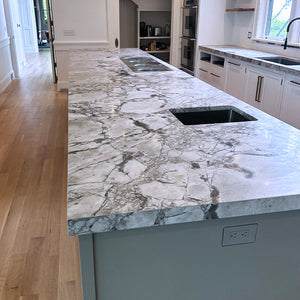 White Oak Island + White Oak Outlet
When an instagram celebrity (of the woodworking community) has an idea, you listen. This White Oak Island features five outlets in total, and he chose to install of them with the FLUSTHEK System Pack. His reaction was incredible: "if people aren't doing this they're dumb…it's just sexy as hell." We definitely agree, especially considering how it looks with the FLUSHTEK Wood Outlet Covers.
Modern Kitchen Island Outlet
We've featured several kitchen island outlet installations that utilize the end-panel, but what do you do when the countertop waterfalls over? In this sleek and modern kitchen the owner had the great idea to hide it adjacent the oven. We love how this island is so sleek and seamless—the flush outlet installation fits right in!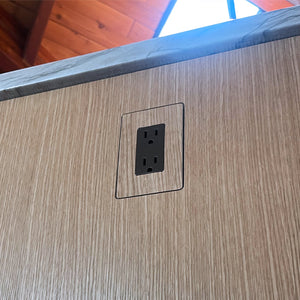 Matching Wood Outlet Cover Install
After seeing the FLUSHTEK Wood Veneer Outlet Covers in an Instagram post, this owner insisted that his contractor use them to hide the outlets on this custom kitchen island. And seeing the result, he definitely made the right choice. Our flush outlets installed with We're happy he did
Kitchen Island Outlet in Dark Blue
This clever contractor hid the code-required kitchen outlets under a countertop overhang—going the extra mile to install them flush as well. Because the FLUSHTEK System works with standard Lutron Outlets, you can always find a good match for installing them into your project. Between a flush install and a good color match, these kitchen outlets basically disappear.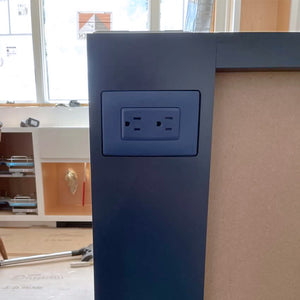 Kitchen Cabinet Electrical Outlet Summary
We hope you've enjoyed seeing some of the ways that homeowners and contractors can hide kitchen outlets—just because they're code required doesn't mean they have to ruin your beautiful designs!
Are you curious about other ways to use the FLUSHTEK System Pack? Be sure to check out our previous blog post on Baseboard Outlets as well! And finally, don't hesitate to get in touch or comment if you'd like to learn more about using the FLUSHTEK System for your next project!